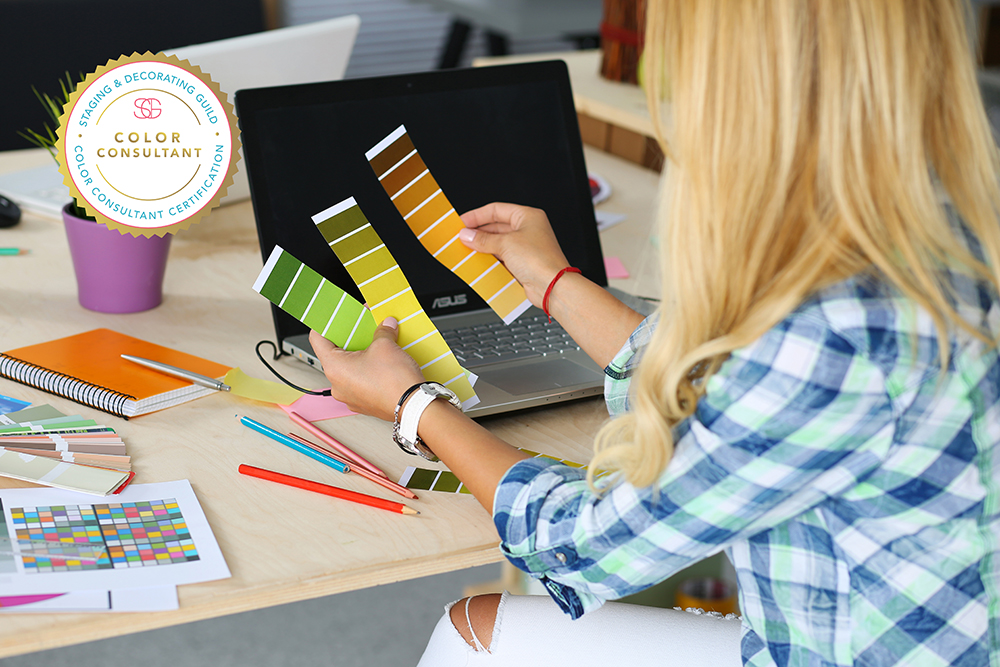 2-DAY COLOR CONSULTANT CERTIFICATION
The tools in this color consultant course will refresh basic color knowledge, with emphasis on color schemes, identifying undertones and selecting paint color for unusual architectural or structural features.
In today's world, many clients are willing to take on more of the 'DIY' role in home design and decorating. However, these customers usually lack the confidence to select color for their rooms, or have an unusual architectural or design feature making color choice more challenging. As a Decorator Guild Accredited Color Consultant you will be able to put your clients at ease by confidently selecting the proper paint palette. You'll learn 'The Goldilocks Method', our patented paint selection formula that makes paint selection for both interior and exterior applications seamless. As an Accredited Color Consultant, you'll have the tools at your fingertips to conduct congruent color consults with confidence and leave with payment in hand!
Do you want to:
Know what influences made that swatch looked so right in the store and so wrong in the room?
Know what colors to always avoid in kitchens?
Know the fail-safe Goldilocks Method for selecting color?
Know how to communicate effectively with a client about why her favorite color just won't work in her room?
Are you ready to set yourself apart from other design professionals?
As a Certified Color professional you will not only know how to use color
but also understand all of the reasons why the colors you choose work together.
Please click on the links below for a daily itinerary of what we'll cover.
+ Day One Itinerary
Day One
8:00-8:15 – Welcome Introductions
8:15-9:00 – Overview of:
Chapters 1 Anatomy of Color
Chapter  2 Light and Color
(Assigned reading for homework)
9:00-9:30 –  Chapters 3 Psychology of Color
9:45-10:00 –  Break
10:00-12:00 – Chapter 4 Color Theory
Breakout Exercises:
Creating a Color Wheel
Mixing Primary and Secondary Color
Comparing Color Values and Hues
Creating Muted Color
Creating Tertiary Colors
Lunch N Learn –  Chapter 7 Paint 101
12:00-1:00 – Guest Speaker
1:15-1:30 – Break
1:30-3:30 – Chapter 5 Working with Color
Chapter 6 Color Harmony
Breakout Exercise: Identifying Undertones
3:30-3:15 – Break
3:15-5:00 – Begin Chapter 8 Picking Paint Color
Breakout Exercise: Anatomy of a Tray Ceilin
Homework: –  Read Chapters 1, 2, 7
Complete Ceiling Tray Exercise
+ Day Two Itinerary
Day Two
8:00-8:30  – Review Homework
8:30-9:15  – Chapters 8 Picking the Perfect Paint Color
Breakout Exercises:   CCG Goldilocks Method
9:15-9:45 – Chapter 9 Creating Mood with Color
9:45-10:00 – Break
10:00-12:00 – Chapter 10 Developing a Color Scheme
Breakout Exercises: Creating a Color Scheme using Fabric
Breakout Exercises: Learning the CCG Color Scheme Method
lunch 12:00-1:00
1:00-2:00 – Chapter 11 Developing a Color Palette from Scratch
2:00-3:00 – Chapter 12
Breakout Exercise-Identifying Undertones in Exteriors
3:00-3:15 – Break
3:15-3:30 – Chapter 13 Color for Staging
3:30-5:30 – Chapter 14 Understanding the Color Consultation
Chapter 15 Working with the Client
Conclusion –  Students Receive Certificates
What are you waiting for?
Join the many certified designers who now have color skills
that are a cut above the rest and have an added edge when marketing their services.
2018 Dates
April 15-16
June 7-8
August 2-3
October 4-5
December 6-7
. . . . . . . . . . . . . . . . . . .
$1,295 – REGISTER NOW
To reserve a seat in this course, please submit your $500 deposit. This deposit is transferable to another scheduled course, but it is not refundable. We require 10 days notice prior to the scheduled start date to transfer your deposit to another course. The remainder of the balance is due 10 days prior to the scheduled start date and is payable via paypal, credit card or check.

Atlanta,GA
404-943-0779